Sunil Agrawal and Associates (SAA)

is thrilled to announce the release of our highly anticipated

Annual Report for the Indore Retail and Office sectors

for the financial year 2022-23. With over 25 years of experience in the real estate industry, we take immense pride in providing developers, builders, home buyers, and investors with valuable insights and data to make informed decisions.



Indore's Thriving Retail Sector:

a. Booming Retail Market Size:
The retail sector is experiencing an unprecedented surge, with major brands expanding their footprint into 2nd and 3rd tier cities. The projected market size of USD 2 trillion by 2032, growing from USD 690 billion in 2021, demonstrates a remarkable 25% CAGR for the organized retail sector.

b. E-commerce Growth and Mall Expansion:
The convenience and widespread acceptance of e-commerce have fueled its further momentum. To accommodate this growth, around 25 million square feet of new malls are set to be added across the top 7 cities, promising ample opportunities for retailers.

c. Indore's Emergence as a Commercial Hub:
Fondly known as "Mini Mumbai," Indore's rapid economic growth has established it as the commercial capital of Madhya Pradesh. The city embraces change and caters to a diverse consumer base, with a population exceeding 3.2 million.

d. Mall Stock and Future Prospects:
Indore boasts a mall stock of 2.4 million sq ft, contributing to 11% of Tier-II cities. The current supply stands at 1.1 million sq ft, with an additional 0.5 million sq ft of malls under construction, expected to be completed by 2024.
The Rising Demand in Indore's Office Sector:
a. Impressive Growth of India's Commercial Real Estate Market:
India's Commercial Real Estate Market is valued at USD 21 billion and is expected to witness an exceptional CAGR of over 22% between 2023 and 2028.

b. Net Absorption and Demand Surge:
In 2022, India experienced a net absorption of 38 million square feet in the office sector. This figure is projected to exceed 60 million square feet in both metro and non-metro cities by 2023, indicating significant growth and demand.

c. The Influence of Co-working Spaces and Data Centers:
The recent expansion of co-working spaces and the increasing demand for data centers are further driving the momentum of the commercial sector, opening new avenues for businesses.

d. Office Spaces in Indore: Abundance of Opportunities:
Indore presents a wealth of office space options, with a substantial ready stock of 5.26 million sq ft. As the city grows, businesses have a plethora of opportunities to choose from.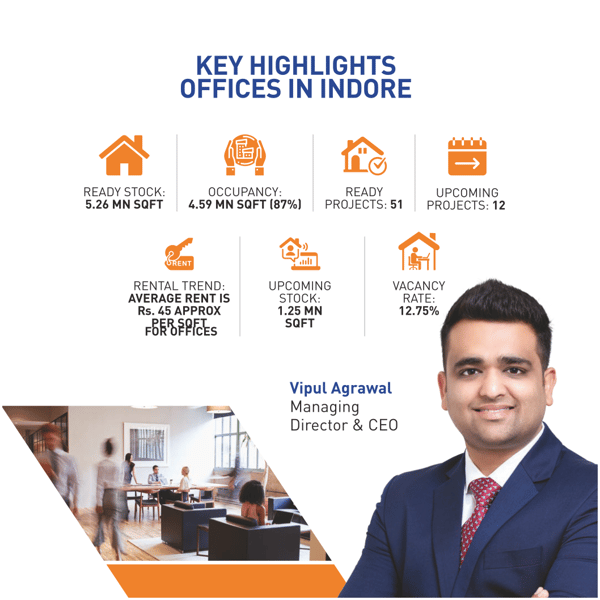 Indore's Emerging Micro Markets:
a. Dominant Players
In Financial Year 2022, office leasing activity was concentrated in three major micro markets: Vijay Nagar, Ring Road, and AB Road. These three micro markets accounted for approximately 80% of the share.

b. Rising Demand Sparks Development
As the demand for office spaces continues to rise, builders are planning new projects across various locations.

c. Exploring New Horizons
Upcoming micro markets such as Super Corridor, MR 10, and Scheme no. 140 are being explored to cater to the growing demand for Grade A office spaces. This surge in demand is driving the expansion into these upcoming micro markets.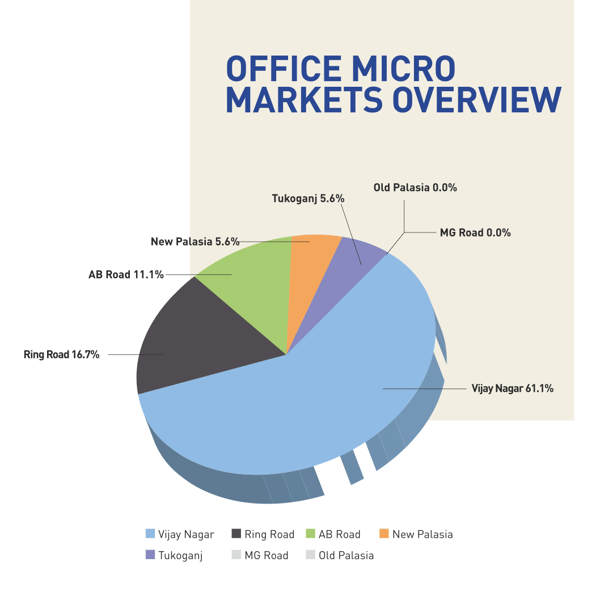 How the Annual Report Empowers Realtors and Businesses:
Sunil Agrawal and Associates' Annual Report acts as a compass for realtors, real estate investors, and businesses alike. With comprehensive insights into the retail and office sectors, the report equips stakeholders with valuable data to make strategic decisions in a dynamic market.

Accessing the Complete Annual Report:
To access the complete Indore Retail and Office Annual Report 2022-23, head to https://www.saa.one/annual-report-retail-office/. Download the report and delve into the detailed analysis and statistics, empowering yourself to stay ahead in Indore's flourishing commercial landscape.

Sunil Agrawal and Associates is committed to driving growth and success in the Indore Commercial Real Estate Market. With the release of our latest Annual Report, we aim to provide realtors and businesses with the knowledge and tools needed to make informed decisions. Embrace the opportunities offered by Indore's thriving retail and office sectors, and embark on a journey of prosperity and success. Download the report today and unlock the potential of Indore's commercial landscape!